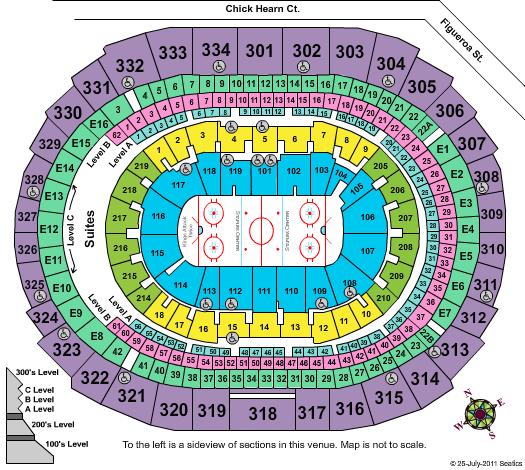 Child Admissions
For all sporting events and most concerts, children 2 years of age and younger will be admitted into Staples Center without a ticket provided that they sit on an adult's lap and do not occupy a seat. Any child 3 years of age and older will require a ticket to enter the arena.
Doors Open Times:
VIP doors open 2 hours prior, Main doors open 1 hour 30 minutes prior to game time.
First Aid
Trained emergency medical technicians (EMT) personnel are available to assist any guest in need at every STAPLES Center event. First Aid offices are located on the Main Concourse across from aisle M3 and on the upper concourse across from aisle U19. In addition, STAPLES Center is equipped with Automatic External Defibrillators (AED) located in various locations throughout the facility. Designated employees, including our EMT staff, have been properly trained and certified to use the AED. In the event of a medical emergency, contact a member of our Guest Services or Security staff for assistance
Will Call Info
Tickets may be picked up at the Will Call window of the Box Office two hours prior to the event start time. You must have the credit card used to make the purchase and a valid photo I.D. to pick up tickets at Will Call.
Guest Services Center
Our Guest Services Center is located on the Main Concourse across from aisle M12 and on the Upper Concourse across from aisle U6 and is designed to provide information to guests with questions, concerns, or issues during the event. In addition, the Guest Services Center provides assistance to Guests with disabilities.
No Re-Entry
There is a "no re-entry" policy during events. Guests who wish to return a prohibited item to their vehicle or need to exit and re-enter due to personal emergencies, must first make contact with a Guest Services supervisor or manager via the Guest Services Centers to make necessary arrangements.
Seating Capacity
The seating capacity for hockey is 18,118.
Prohibited Items in Stadium
The following is a partial list of items that are prohibited at Staples Center.
Weapons
Outside Food and Beverage
Cameras: no flash/professional photography
Recording Devices
Bags: Backpacks, Large Bags, Suitcases
Signs/Flags/Banners/Posters/Pamphlets
Tripods/ Monopods, Laser Pointers, Alcohol, Drugs, Noise Making Devices, Fireworks, Flashlights, Skateboards/ Rollerblades, Beach Balls, Cans or Bottles.
Laptop Computers
Places to Eat
Located next to Sections 102, 106, 112, 113 (Main Concourse)
Favorite Franks: Skyscraper Dog, Downtown Dog, Spicy Italian Sausage
Snacks: Nachos, Super Nachos, Popcorn, Soft Pretzels, Peanuts
Healthy Kids Taste Club: Hot dog or PBJ Uncrustable; carrots with dipping sauce or sensible portions and a fruit juice or a regular soda
Sweet Treats: Caramel Apple, Novelty Ice Cream, Assorted Candy
Figueroa Bar/Harbor Bar
Located next to Sections 101, 110 (Main Concourse)
Cocktails, Bottled Beers, Frozen Cocktails, Premium Wines, Martinis
Wetzel's Pretzels
Located next to Section 103 (Main Concourse)
Wetzel's Gourmet Pretzels: In Original Butter & Salt, Sinful Cinnamon & Sugar, Almond Crunch, Non-Fat Original, and available with Caramel Dipping Sauce.
Favorites: Wetzel Dog, Skyscraper Dog, Downtown Dog, Popcorn, Nachos, Peanuts
Budweiser Tap Room
Located next to Section 104 (Main Concourse)
Sushi Plates and Rolls: Variety of Freshly Prepared Sushi, Edamame
Kosher Items: Turkey Pastrami Combo, Smoked Turkey Spinach Wrap Combo, Tuna Nicoise Salad, Tuna Salad Sandwich with Pasta Salad, Grilled Veggie Sandwich with Pasta Salad, Garden Salad, Hummus and Pita Plate
Gluten Free: Gluten-free Beer, Gluten-free Snacks
Snacks: Peanuts, Popcornopolis Popcorn
Budweiser Pub Whistlestop
Located next to Section 108 (Main Concourse)
Hot Food Items: Whistlestop French Dip with kettle style chips, Freshly-tossed Pasta Pomodoro with Spicy Sausage and Pasta Alfredo
Gluten Free: Gluten-free Beer, Gluten-free Snacks
Snacks: Peanuts, Popcornopolis Popcorn
California Pizza Kitchen
Located next to Section 109 (Main Concourse)
CPK Pizzas: Traditional Cheese, Original BBQ Chicken, Pepperoni
CPK Salads: CPK Signature Chinese Chicken Salad
Snacks: Popcorn, Peanuts, Candy, Popcornopolis
Camacho's Cantina
Located next to Section 113 (Main Concourse)
Camacho's Specialties: Camacho Nachos, Camacho's Tostada Salad, Chicken Burrito, Carne Asada Burrito
Healthy Kids Taste Club: Hot dog or PBJ Uncrustable; carrots with dipping sauce or sensible portions and a fruit juice or a regular soda
Snacks: Popcorn, Soft Pretzels, Peanuts, Candy
McDonald's
Located next to Section 114 (Main Concourse)
Chicken Nuggets, Hamburgers, Salads, Chicken Sandwiches, French Fries
Beyond The Whistle Stop
Located next to Section 115 (Main Concourse)
Sandwiches: Turkey, Pastrami, Piled High with Cole Slaw, Whistle Stop French Dip, Italian Grinder (all served with kettle style chips)
Sides: Potato Salad, Cole Slaw, Macaroni Salad
Favorites: Farmer John Skyscraper Dog
Snacks: Peanuts, Pretzel, Popcornopolis
Camacho's Cantina
Located next to Section 117 (Main Concourse)
Camacho's Specialties: Camacho Nachos, Nacho Chips with Guacamole, Nacho Chips with Cheese
Build-Your-Own: Camacho Burrito, Camacho Bowl, Camacho's Tostada Salad
Favorite Franks: Skyscraper Dog, Downtown Dog
Big Dawgs
Located next to Section 118 (Main Concourse)
Big Dawgs: BBQ Dawg, Deli Dawg, Junkyard Dawg, Messy Chili Cheese Dawg and Skyscraper Dawg
Snacks: Popcorn, Peanuts, Popcornopolis
Corner Grill
Located next to Section 119 (Main Concourse)
Sandwiches: Classic Chicken Breast, Patty Melt, Sloppy Joe Sliders, Turkey BLT, Italian Grinder (all served with kettle style chips)
Favorites: Chicken Tenders, Veggie Burger, Skyscraper Dog
Sides/Snacks: Victory Knot Giant Pretzel, Funnel Cake Dippers, Popcornopolis